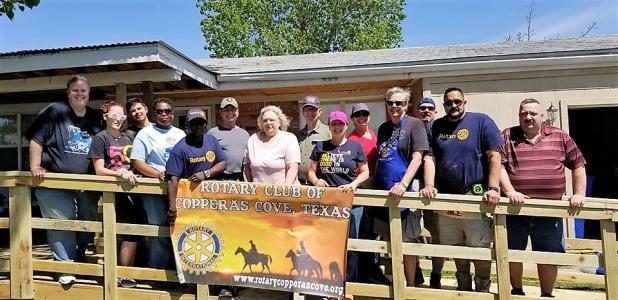 Copperas Cove Leader-Press
By Lynette Sowell  |  
A Copperas Cove woman recovering from surgery now has a ramp outside her home, thanks to the volunteering of members of the Copperas Cove Rotary Club.
On Saturday, club members gathered at the home of Varity Sipes to build their first wheelchair ramp.
They had some help from several members of the Killeen Heights Rotary Club and additional muscle power from students of CTC's Rotaract Club.
Killeen Heights Rotary Club president Bob Crouch said the club has had extensive experience building wheelchair ramps through their partnership with the Texas Ramp Project and the Heart of Texas Center for Independent Living (HOCTIL).
In turn, Crouch and his fellow club members helped teach and lead Copperas Cove's members in building the ramp.
"Because this was a first-time build and teaching experience, it took a little longer than usual to build," Crouch said. "We started at 8 a.m. and finished at 1 p.m. With more experience, the build time will reduce to two to three hours."
A total of 18 volunteers built the ramp, with 12 from the Copperas Cove Rotary Club, three from the Killeen Heights Rotary Club, and three from the Rotaract Club at Central Texas College.
Project materials ran $625, which were donated for the group effort.
The Killeen-Heights Rotary Club began working on monthly ramp projects in Central Texas during the summer of 2016.
They with the help of other volunteers have built ramps in Copperas Cove, one for a family on Mountain Avenue.
In July 2017, the club along with volunteers from Grace United Methodist Church, First United Methodist Church of Killeen and Salado United Methodist Church, the National Mounted Warfare Foundation, the Exchange Club of Copperas Cove and Five Hills Scholarship Pageant royalty all gathered to build a ramp and new deck at Cove House.